ID AUTOMOTIVE REPAIRS 👨‍🔧🚗🆒🔧BOSCH SERVICE CENTRE - WE LEAVE A GREAT IMPRESSION | Auto Air Conditioning
- PORT KENNEDY AUTO AIR CONDITIONING ROCKINGHAM AUTO AIR CONDITIONING BALDIVIS AUTO AIR CONDITIONING SECRET HARBOUR AUTO AIR CONDITIONING MANDURAH AUTO AIR CONDITIONING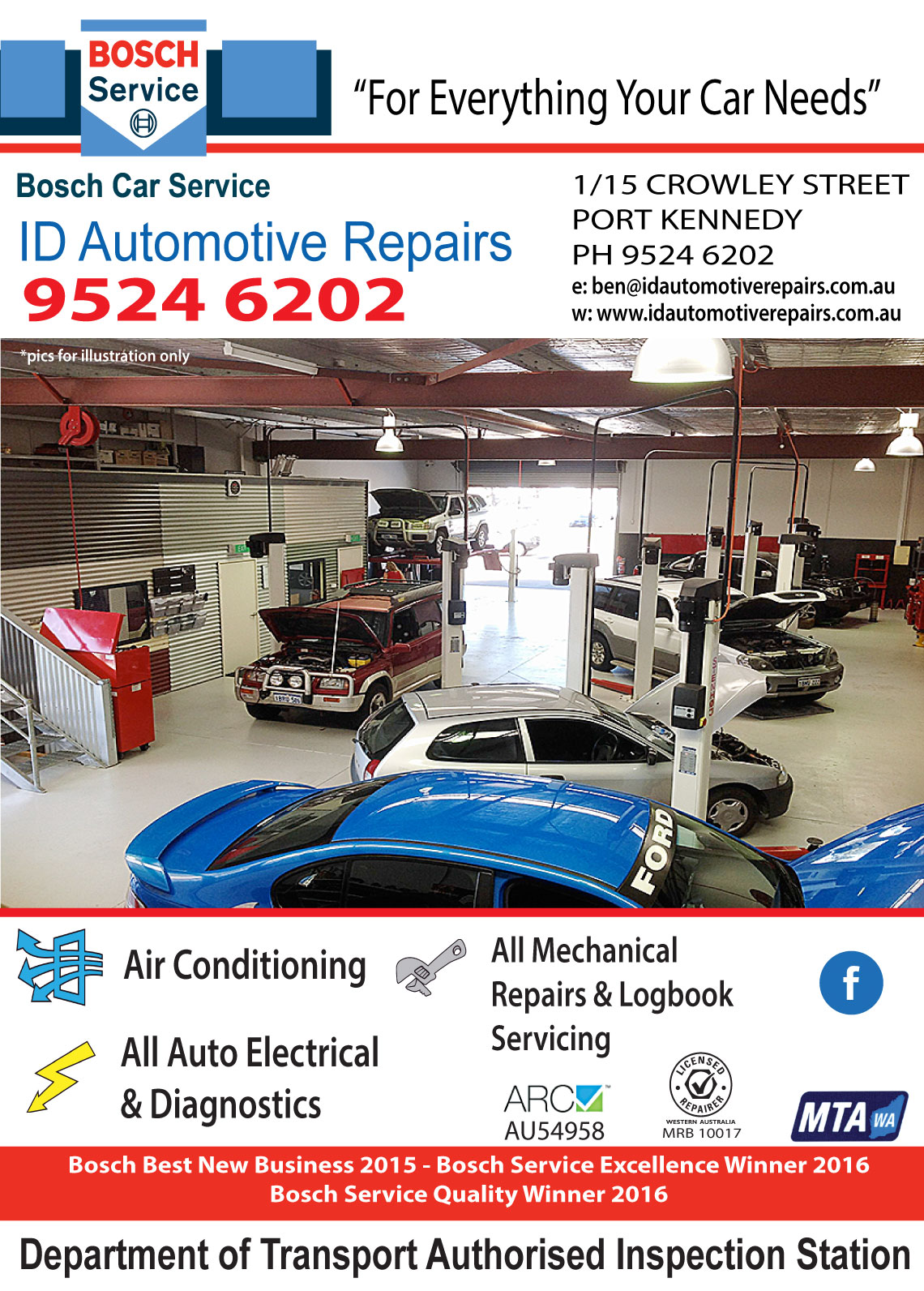 ---
---
Address
1/15 Crowley Street Port Kennedy 6172
---
---
About Us
PORT KENNEDY VEHICLE AIR CONDITIONING ROCKINGHAM VEHICLE AIR CONDITIONING, MANDURAH VEHICLE AIR CONDITIONING, KWINANA VEHICLE AIR CONDITIONING, BOSCH CAR SERVICE CAR REPAIRS ROCKINGHAM CAR REPAIRS, MANDURAH CAR REPAIRS KWINANA CAR REPAIRS PORT KENNEDY BOSCH CAR SERVICE ROCKINGHAM Log Book Vehicle Servicing Port Kennedy Log Book Vehicle Servicing Rockingham Log Book Vehicle Servicing Kainana Log Book Vehicle Servicing Baldivis Log Book Vehicle Servicing Secret Harbour Automotive Engineering Port Kennedy Automotive Engineering Rockingham Automotive Engineering Baldivis Mechanical Repairs Rockingham Mechanical Repairs Kwinana Mechanical Repairs Baldivis Mechanical Repairs Mandurah Mechanical Repairs Port Kennedy
ID AUTOMOTIVE REPAIRS IS AN APPROVED INSPECTION CENTRE - BOSCH CAR SERVICE
AIR CONDITIONING:
With Australias hot climate air conditioning servicing is essential and with our quick and efficient servicing we will make sure that you are up and running in no time.
Don't take unnecessary risks and run out of gas this summer come and see our helpful team today for great rates and professional refills with the newest technology.
LOG BOOK SERVICING:
Log Book Servicing is an absolute must for your car to keep running well and efficiently all year round.
Phone 9524 6202 to make an appointment.
---
Business Details

Car Air Conditioning Affordable air con re-gassing service to keep you cool in summer
Summer in Rockingham can be an uncomfortable nuisance if your car's air conditioning system isn't functioning properly and effectively. Not only is a faulty air conditioner annoying, it can be harmful to your car and the environment.
Signs that it's time to get yours serviced include:
It's taking longer to cool the car
The cool breeze doesn't feel as cold as before
The air smells damp or weird
The blower is making a hissing noise
Cool air only reaches some parts of the car
While a well-maintained car can run for years without ever needing to repair its air conditioning system, you still need to have it serviced regularly so that it can achieve this result.
LOG BOOK SERVICING:
Log Book Servicing is an absolute must for your car to keep running well and efficiently all year round.
Log book servicing keeps your new car warranty, allowing you to make a claim if anything goes wrong with your car.
Log Book Servicing or Manufacturers Log Book Servicing keeps your new cars warranty without having to return to your original dealer, saving you time and money.
To make sure that you keep your manufacturers guarantee you must keep your vehicle serviced within the manufacturers time frame.
When you have your vehicle serviced with ID Automotive Repairs we make sure we spend proper care and attention on your vehicle for maximum efficiency, allowing you to speak directly to the mechanic who is working on your vehicle, and ask any questions you have about your car or inform them about any problems you may be having.
We only use quality no expense spared tools and you can be rest assured of your vehicles mechanical well being. We only use quality parts sourced with a competitive price.
BRAKES:
Brakes are the single most important safety factor in your car.
One of the easiest ways to tell if they need attention is:
*Your car loses grip when braking.
*Your car pulls to the left or right when braking.
*Your brake pedal is low, hard, soft or spongy.
*Your steering wheel shudders when you brake.
*Your brakes screech or squeal.
*Your car takes longer to stop than normal.
SUSPENSION:
One function of your car's suspension is to provide a smooth, comfortable ride even when you're on a bumpy road. However your suspension's most important job is to keep all four tyres in firm contact with the road, so that steering, driving and braking systems are effective.
There are many parts working together to ensure your car's suspension is doing its job.
Shock absorbers (or struts) and springs are the main parts, however it's important that other parts, including ball joints, tie rod ends and suspension bushes are in good condition. If any of these parts are worn your suspension system becomes ineffective.
For example, just one worn shock absorber means you may need an extra further 2.6 metres to stop. That could be the difference between stopping safely or crashing.
Here is a list of some of the things that can occur when your shock absorbers or struts are worn. If any of these happen to you, it's time to get them replaced: *Car dips forward when braking.
*Tyres show evidence of unusual tread wear.
*Shock absorbers are leaking fluid.
*Car doesn't handle properly around corners.
DIAGNOSTICS:
We use high tech tools at ID Automotive Repairs, with all the latest programmed scanning equipment and tools to read vehicles on-board computers. Sensible advice owning the high tech tools is only half the work, having a properly trained and skilled operator will allow ID Automotive Repairs to find these faults then provide you with a detailed report about the work carried out on your vehicle.
Our testing will also go a long way to unveiling any problems you may have been having.

---
Trading Hours
Mon: 8.00am - 5.00pm
Tue: 8.00am - 5.00pm
Wed: 8.00am - 5.00pm
Thu: 8.00am - 5.00pm
Fri: 8.00am - 5.00pm
Sat: Closed
Sun: Closed
---
Payments Accepted
Cash, Credit