*RMK Multimedia Marketing - Business Directory Rockingham | Business Directory
- NAVAL BASE TO DWELLINGUP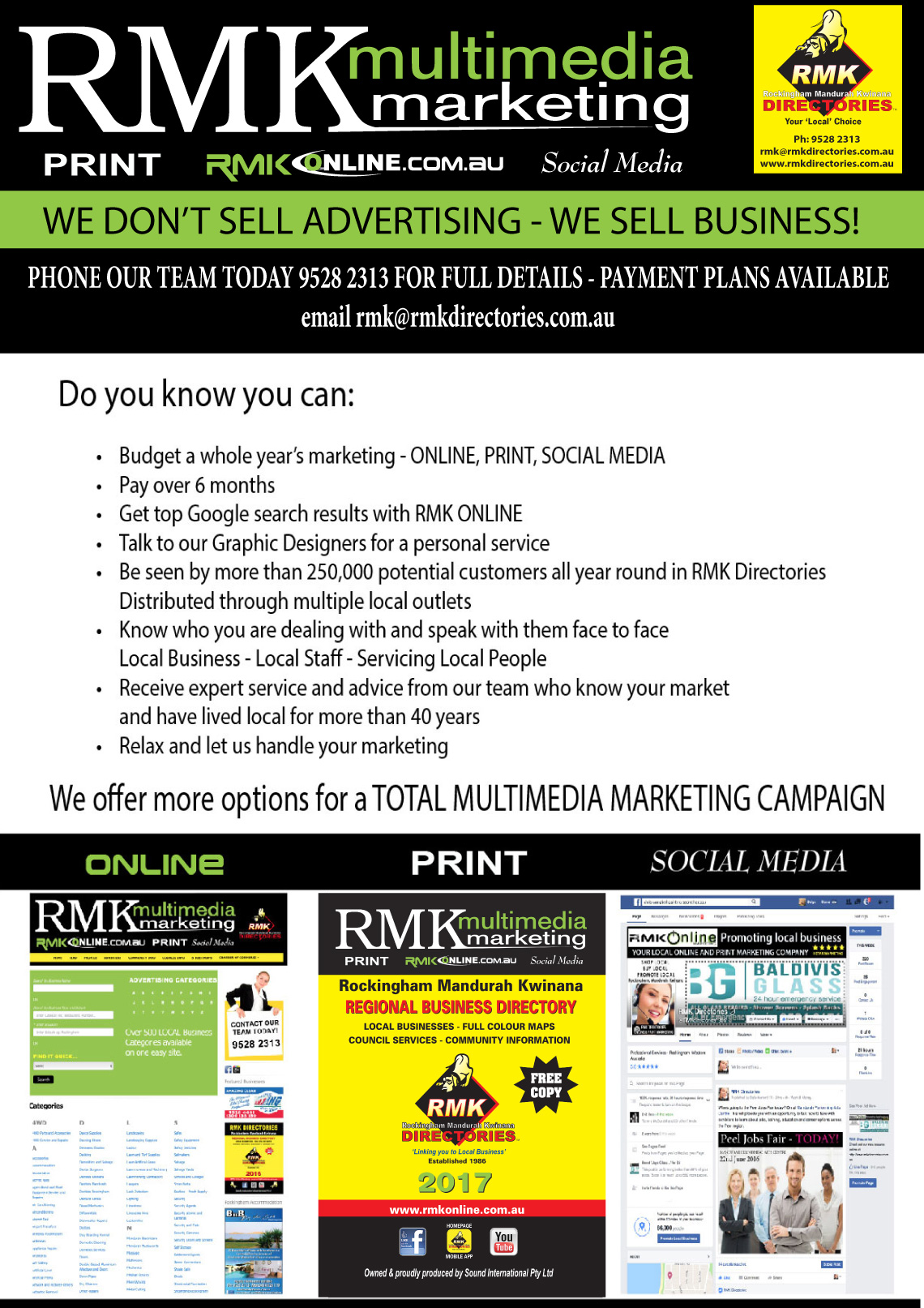 ---
*RMK Multimedia Marketing - Business Directory Rockingham
---
---
---
About Us
ROCKINGHAM LOCAL BUSINESS DIRECTORY
MANDURAH ONLINE BUSINESS LISTING
BALDIVIS ONLINE BUSINESSES
KWINANA ONLINE BUSINESS LISTING
GREENFIELDS BUSINESSES ONLINE
FALCON BUSINESSES ONLINE
Marketing your business to your local region. Rockingham, Mandurah, Kwinana, Baldivis.
Advertising PRINT, ONLINE & SOCIAL MEDIA. Local Region for small and large businesses, Tradies Advertising. Annual Printed Business Directory - offering 12 months of advertising and marketing for your business. Easy - Online Features, Printed Advertising, Social Media Marketing.
---
Business Details
Sound International Pty Ltd trading as RMK Multimedia Marketing incorporates RMK Online, RMK Directories and Social Media to offer more options to our clients.
Our new Corporate Image reflects the changing times however our philosophy remains the same. Since 1988 we have serviced the local community, supported local business and employed local staff.
RMK Online Marketing, through our popular website offers more than 500 local business categories and an easy to access search engine.
You can find us on Facebook, Twitter and YouTube and download our Webpage direct to your phone for easier access to our listings.
RMK Directories published each October, offer a comprehensive guide to the Rockingham, Mandurah and Kwinana communities, promoting business and encouraging consumers to shop locally.
The Directories are now available all year through local outlets in Rockingham, Mandurah, Pinjarra and Kwinana.
We take pride in offering quality customer service with a personal and professional approach to our client's needs.
---
Trading Hours
Mon: 8.30am - 4.30pm
Tue: 8.30am - 4.30pm
Wed: 8.30am - 4.30pm
Thu: 8.30am - 4.30pm
Fri: 8.30am - 4.30pm
Sat:
Sun:
---
Payments Accepted
Cash, Eftpos, Credit Card, Payment Plans