*Hairwaves of Shoalwater - Hairdressing Supplies Shoalwater Rockingham | Hairdressing Supplies - ROCKINGHAM HAIRDRESSING SUPPLIES SHOALWATER HAIRDRESSING SUPPLIES SAFETY BAY HAIRDRESSING SUPPLIES SECRET HARBOUR HAIRDRESSING SUPPLIES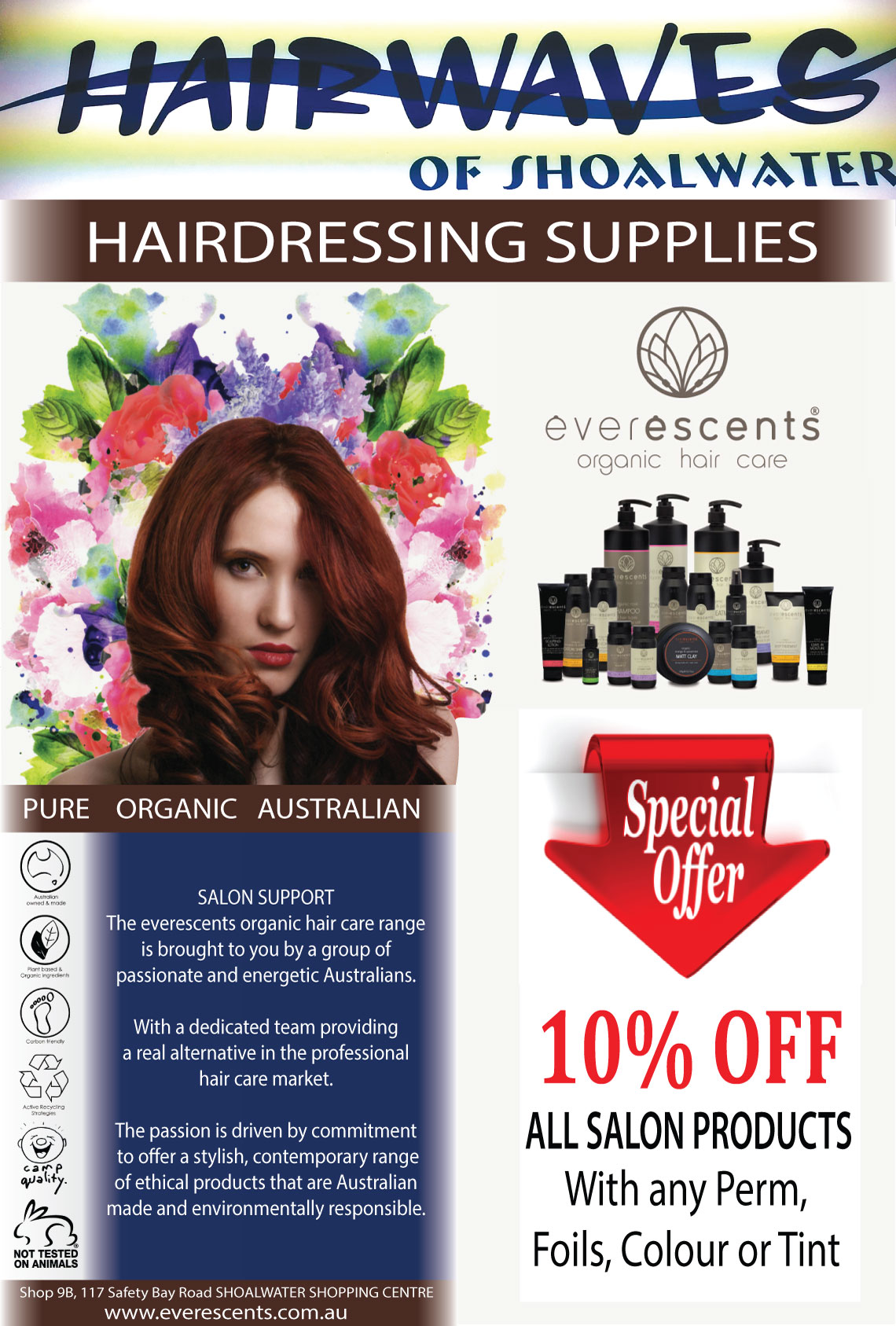 ---
---
Address
Shop 9B, 117 Safety Bay Road, Shoalwater Shopping Centre Shoalwater 6169
---
---
About Us
SHOALWATER HAIRDRESSING SUPPLIES ROCKINGHAM HAIRDRESSING SUPPLIES SAFETY BAY HAIRDRESSING SUPPLIES WAIKIKI HAIRDRESSING SUPPLIES
SUPPLIER OF SHOALWATER EVERESCENTS ROCKINGHAM.
10% OFF ALL PRODUCTS WITH ANY PERM, COLOUR, TINT OR FOILS
Supplier of Everescents hair products Rockingham which is pure, organic and Australian.
10% OFF ALL JUUCE & NASHI ARGAN PRODUCTS (while stocks last).
Privately Owned Unisex Hair Salon Shoalwater. Fashion Cuts & Styles. Specialising in Foiling, Colouring and Perms. Facial and Brow Waxing, Brow and Lash Tinting. Seniors Discount Monday to Friday. Gift Vouchers Available.
CLICK BUTTON FOR EVERESCENTS PRODUCT RANGE ON FEATURE
---
Business Details
HAIRDRESSING SUPPLIES SHOALWATER. HAIRDRESSING SUPPLIES ROCKINGHAM.
SUPPLIER OF EVERESCENTS SHOALWATER ROCKINGHAM.
Supplier of Everescents hair products Rockingham which is pure, organic and Australian.
10% OFF ALL JUUCE & NASHI ARGAN PRODUCTS (while stocks last). Privately Owned Unisex Hair Salon Shoalwater. Fashion Cuts & Styles. Specialising in Foiling, Colouring and Perms. Facial and Brow Waxing, Brow and Lash Tinting. Seniors Discount Monday to Friday. Gift Vouchers Available.
---
Trading Hours
Mon:
8.30am - 5.00pm
Tue:
8.30am - 5.00pm
Wed:
8.30am - 5.00pm
Thu:
8.30am - 5.00pm
Fri:
8.30am - 5.00pm
Sat:
8.30am - 3.00pm
Sun:
Closed
---
Payments Accepted
Cash, Credit Card, EFTPOS