*Kassala Holdings Pty Ltd - Earthmoving Repairs Baldivis Rockingham | Earthmoving Repairs
- ROCKINGHAM, BALDIVIS, KWINANA, MANDURAH, PERTH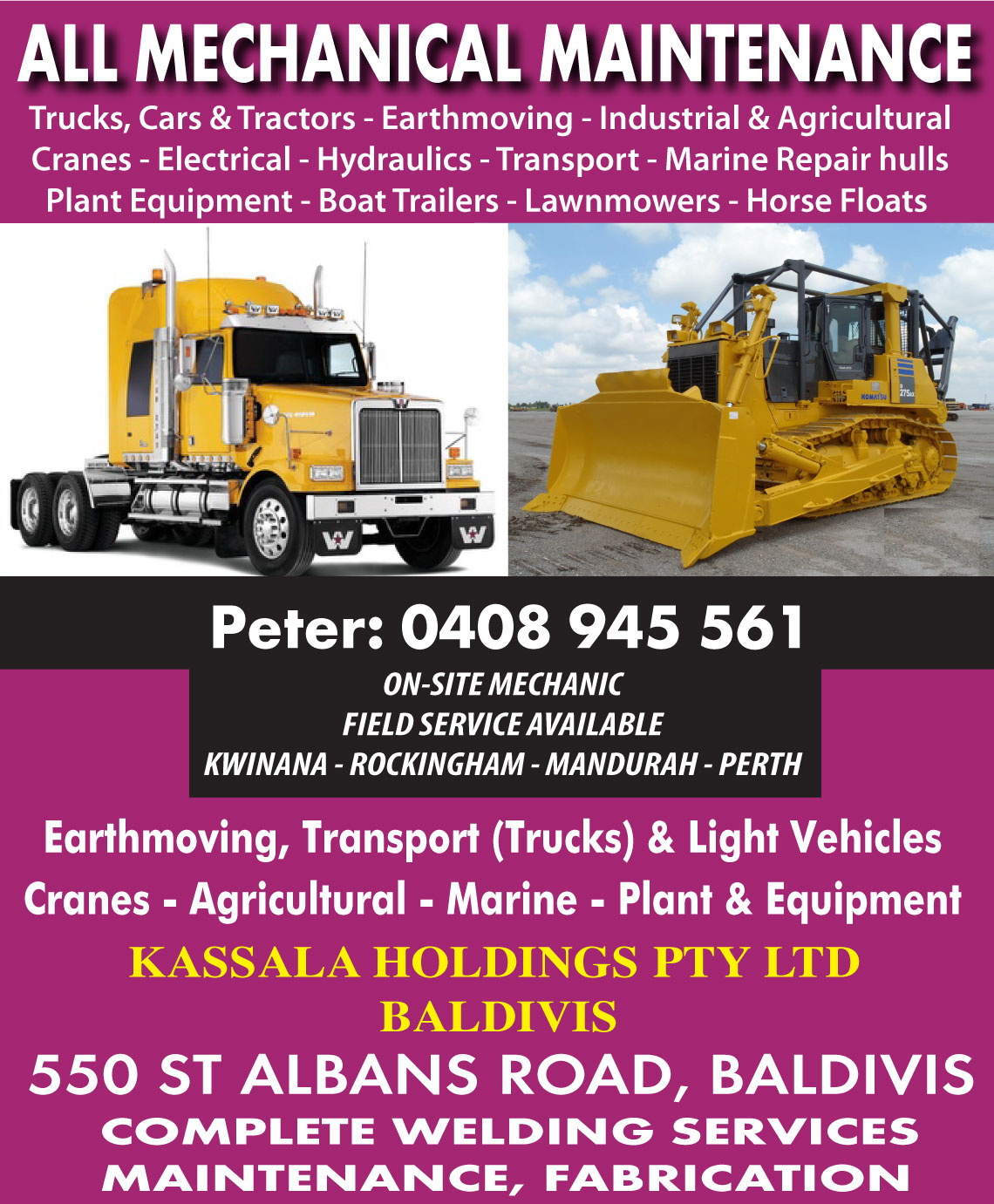 ---
---
Address
550 St Albans Road Baldivis 6171
---
---
About Us
BALDIVIS EARTHMOVING REPAIRS ROCKINGHAM, Baldivis Crane Servicing and Repairs Rockingham. ROCKINGHAM TRUCK SERVICE AND REPAIRS BALDIVIS, Machinery Repairs, Truck Repairs Baldivis, Rockingham, Kwinana, Mandurah, Baldivis Earthmoving Repairs and Parts. Earthmoving, Industrial Rockingham, Baldivis, Mandurah Agricultural, Cranes, Trucks, Cars & Tractors, Electrical, Hydraulics, Transport
BALDIVIS ELECTRICAL REPAIR ROCKINGHAM HYDRAULICS BALDIVIS.
Mechanical repairs. Marine repair hulls, Boat Trailers, Fabrication, Lawn Mowers, Horse Floats FIELD SERVICE AVAILABLE, MOBILE FIELD SERVICE ROCKINGHAM, MANDURAH, KWINANA, PERTH SURROUNDS. WATER CART HIRE AVAILABLE.
CLICK FOR FACEBOOK ON FEATURE
---
Business Details
ALL MECHANICAL MAINTENANCE Baldivis Truck Repairs, Welding, Servicing Rockingham, Mandurah, Kwinana, Perth Surrounding areas Repairs and Servicing to Truck, Light Vehicle, and Earthmoving, Industrial, Agricultural, Cranes, Trucks, Cars & Tractors, Electrical, Hydraulics, Transport
Mechanical/Automotive. Marine repair hulls, Boat Trailers, Fabrication, Lawn Mowers, Horse Floats
FIELD SERVICE AVAILABLE WELDING IN ROCKINGHAM. WELDING IN BALDIVIS. RURAL WELDING ROCKINGHAM. Complete Welding Services, Maintenance, Fabrication, Mechanical Repairs & Servicing. BALDIVIS TRACTOR REPAIR ROCKINGHAM AGRICULTURAL EQUIPMENT REPAIR BALDIVIS. BALDIVIS TRANSPORT EQUIPMENT ROCKINGHAM EARTHMOVING SERVICE BALDIVIS MAINTENANCE.
---
Trading Hours
Mon: By Appointment
Tue: By Appointment
Wed: By Appointment
Thu: By Appointment
Fri: By Appointment
Sat: By Appointment
Sun: By Appointment
---
Payments Accepted
Cash, Direct Debit