INSTYLE ENGINEERED STONE & DOORS - OPEN 9-3PM - QUALITY AT AN AFFORDABLE PRICE - KITCHEN BATHROOM LAUNDRY MAKEOVERS | Cabinetmakers
- PORT KENNEDY CABINETMAKERS ROCKINGHAM CABINETMAKERS BALDIVIS CABINETMAKERS MANDURAH CABINETMAKERS, PINJARRA CABINETMAKERS COCKBURN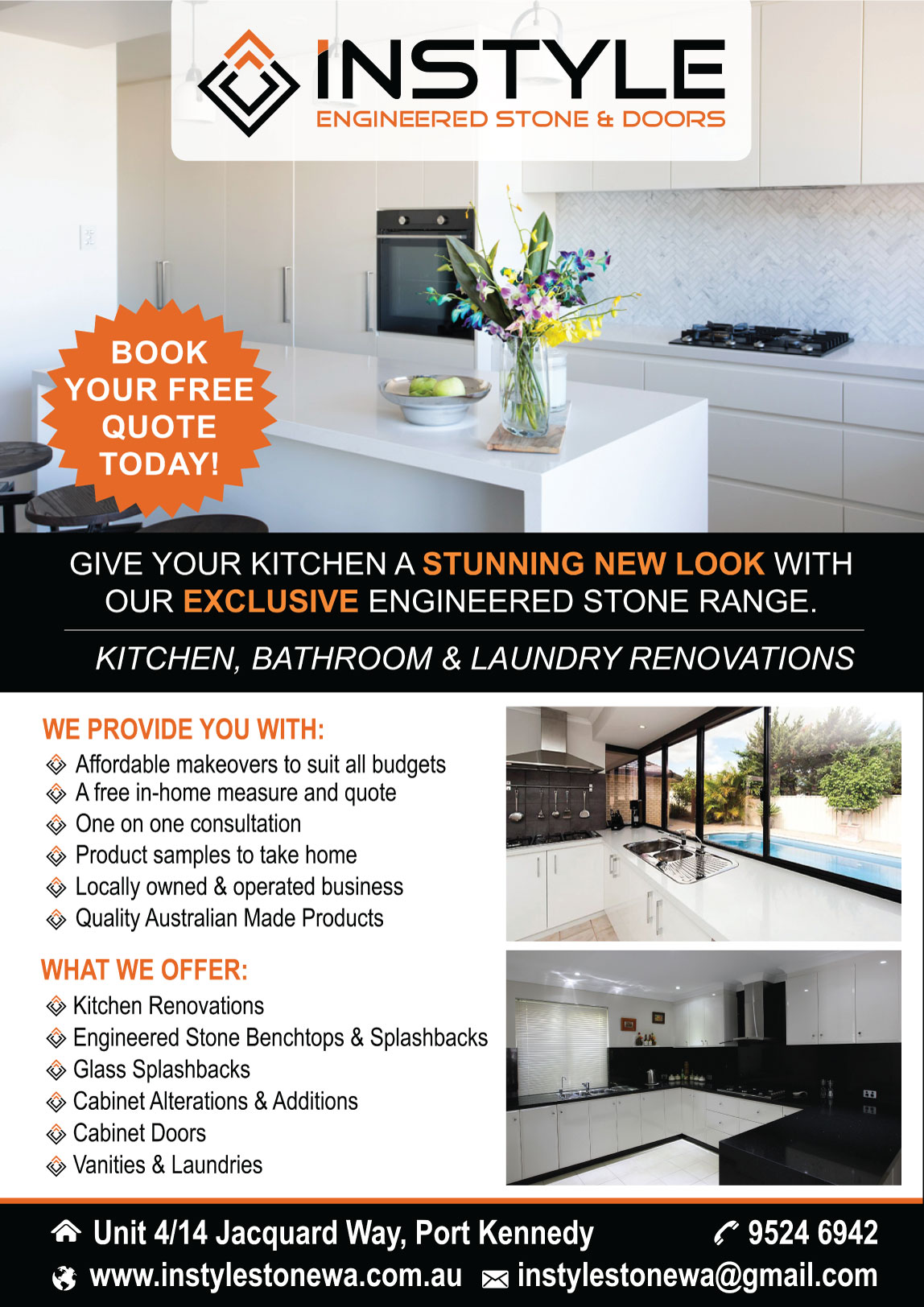 ---
---
Address
Unit 4/14 Jacquard Way Port Kennedy 6172
---
---
About Us
FIND A CABINETMAKER NEAR ME SUCCESS CABINETMAKERS AFFORDABLE RENOVATIONS AUBIN GROVE CABINETMAKERS AFFORDABLE RENOVATIONS ENGINEERED STONE BENCHTOPS ENGINEERED STONE VANITIES AND LAUNDRIES SPLASHBACKS MADE TO ORDER ATWELL CABINETMAKERS AFFORDABLE LUXURY KITCHEN RENOVATIONS BEELIER CABINETMAKERS AFFORDABLE RENOVATIONS COCKBURN CABINETMAKERS AFFORDABLE RENOVATIONS Cabinetmakers Rockingham FIND A CABINETMAKER NEAR ME Cabinetmakers Port Kennedy FIND A CABINETMAKER NEAR ME KITCHEN MAKEOVER IDEAS KITCHEN RENOVATION IDEAS Kitchen Renovations Rockingham, Mandurah Kitchen Renovations, CABINETMAKERS PORT KENNEDY ROCKINGHAM, KITCHEN RENOVATIONS ROCKINGHAM APPLECROSS HOME RENOVATIONS APPLECROSS BATHROOM RENOVATIONS MANDURAH, KITCHEN LAUNDRY RENOVATION PORT KENNEDY, Cabinetmakers Rockingham Cabinetmakers Port Kennedy Cabinetmakers Baldivis Cabinetmakers Pinjarra Cabinetmakers Falcon Cabinetmakers Kwinana Cabinetmakers Cockburn Cabinetmakers Erskine Cabinetmakers Fremantle - all areas - Kitchen Renovations Rockingham, Find someone to fix my bathroom cabinets Mandurah Kitchen Renovations, Port Kennedy and all areas. Laundry Renovations Rockingham, Mandurah Laundry Renovations Port Kennedy.
Bathroom Renovations Rockingham, Bathroom Renovations Mandurah and Port Kennedy Kitchen Bathroom Laundry Makeovers Rockingham Kitchen Bathroom Laundry Makeovers Baldivis Kitchen Bathroom Laundry Makeovers Kwinana Kitchen Bathroom Laundry Makeovers Meadow Springs Kitchen Bathroom Laundry Makeovers Fremantle Kitchen Bathroom Laundry Makeovers Cockburn

Instyle Engineered Stone and Doors are experts in affordable kitchen, laundry and bathroom makeovers, with fantastic service, quality workmanship and products. We will work with you to make your dream kitchen, bathroom and laundry become a reality.
Deal with the same people from start to finish see full feature for free quote
CLICK TO BOOK A FREE QUOTE & FACEBOOK ON FEATURE
---
Business Details
Introducing the kitchen, bathroom & laundry renovation specialists
Looking to view some of our exceptional work? At Instyle Engineered Stone & Doors, we always produce work we are proud of and that you will be proud to show off. With over 30 years experience in the industry and backed by a team of qualified and accredited installers, you are guaranteed work that will exceed your expectations. Having undertaken thousands of kitchen, bathroom and laundry makeovers, our galleries showcase only a handful of our designs. As the design and colour possibilities are endless, if you can not find what you are looking for in our gallery, feel free to contact us and we will be happy to assist.
Kitchen Renovations are our specialty! - Bench Top Resurfacing - Engineered Stone - Door Changeovers - Glass & Engineered Stone Splashbacks - Cabinet Alterations & Additions - Bathroom Vanities - Laundries - Free measure and quote - One on one consultations - Qualified Tradespeople - Deal with the same people from start to finish of your project.
- Kitchens, Bathrooms and Laundries, Rockingham Mandurah Port Kennedy all areas.
---
Trading Hours
Mon: 9am - 3.00pm
Tue: 9am - 3.00pm
Wed: 9am - 3.00pm
Thu: 9am - 3.00pm
Fri: 9am - 3.00pm
Sat:
Sun:
---
Payments Accepted
Cash, Cheque, Credit Card, EFTPOS, Bank Transfer