GREENFIELDS FUNERALS ⚱💎 CREMATION JEWELLERY AND URNS | Urns - Ashes Urns and Jewellery
- ROCKINGHAM URNS - ASHES AND JEWELLERY PORT KENNEDY URNS ASHES AND JEWELLERY FUNERALS MANDURAH,URNS - ASHES AND JEWELLERY KWINANA URNS ASHES AND JEWELLERY FUNERALS BALDIVIS URNS - ASHES AND JEWELLERY PORT KENNEDY URNS ASHES AND JEWELLERY FUNERALS MAN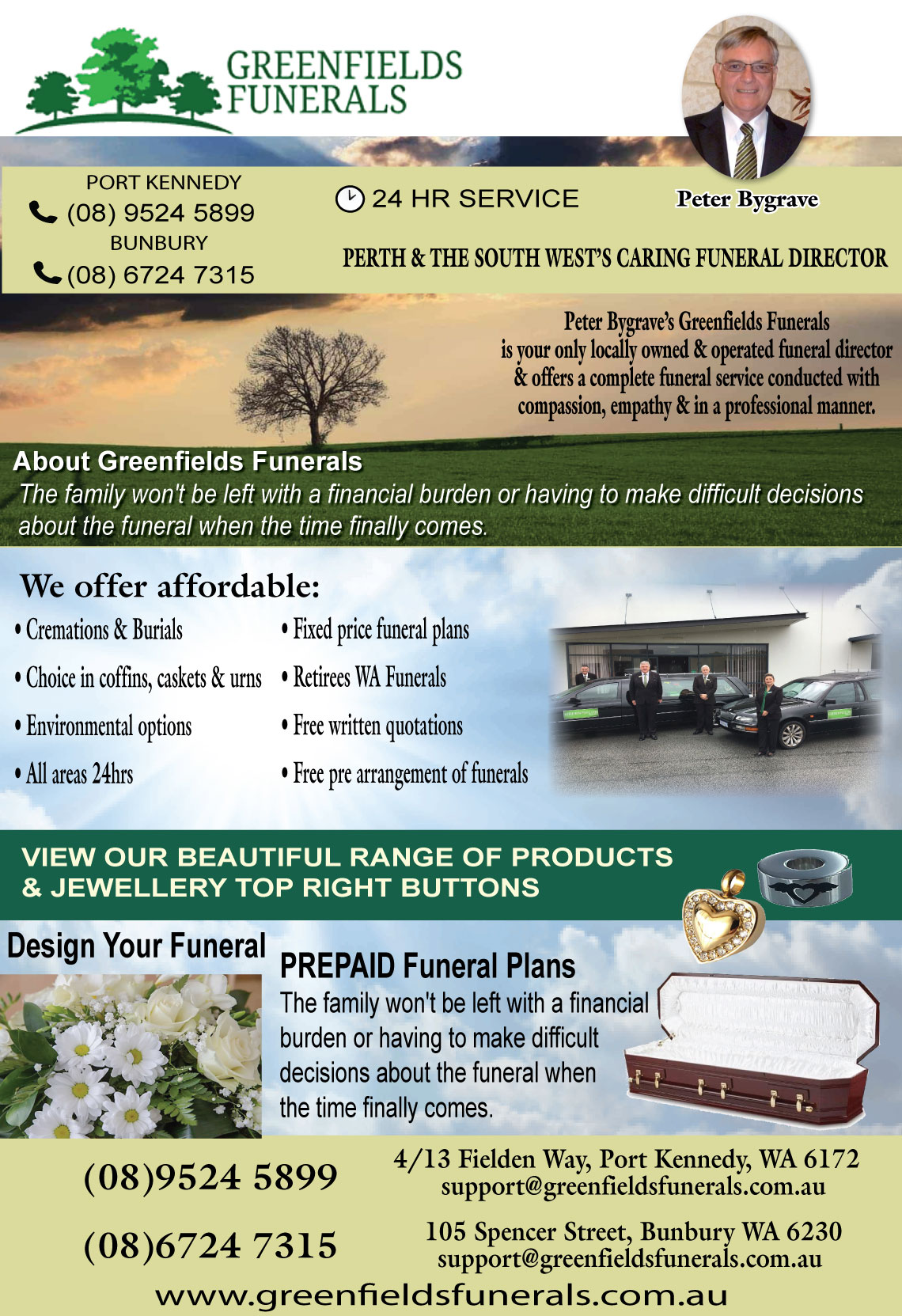 ---
---
Address
4 / 13 Fielden Way Port Kennedy 6172
---
---
About Us
ROCKINGHAM URNS - PORT KENNEDY ASH URNS AND JEWELLERY - ROCKINGHAM CREMATION URNS BALDIVIS URNS PERSONALISED, CREMATION JEWELLERY PORT KENNEDY, ROCKINGHAM, ALL AREAS FUNERALS PORT KENNEDY. FUNERALS ROCKINGHAM. URNS AND CREMATION JEWELLERY ROCKINGHAM PERTH
FUNERALS MANDURAH FFORDABLE FUNERAL DIRECTORS ALBANY PREPAID FUNERALS ESPERENCE PREPAID FUNERALS ESPERENCE FUNERAL DIRECTORS ESPERENCE CREMATION JEWELLERY ONLINE ORDERS DELIVERY AUSTRALIA WIDE PREPAID FUNERALS DENMARK WA AFFORDABLE FUNERAL DIRECTORS PREPAID FUNERALS KOJONUP AFFORDABLE FUNERAL DIRECTORS PREPAID FUNERALS NARROGIN AFFORDABLE FUNERAL DIRECTORS PREPAID FUNERALS MANJIMUP AFFORDABLE FUNERAL DIRECTORS PREPAID FUNERALS PEMBERTON AFFORDABLE FUNERAL DIRECTORS PREPAID FUNERALS NORTHCLIFFE AFFORDABLE FUNERAL DIRECTORS PREPAID FUNERALS WALPOLE AFFORDABLE FUNERAL DIRECTORS PREPAID FUNERALS AUGUSTA AFFORDABLE FUNERAL DIRECTORS PREPAID FUNERALS NANNUP AFFORDABLE FUNERAL DIRECTORS PREPAID FUNERALS MARGARET RIVER AFFORDABLE FUNERAL DIRECTORS PREPAID FUNERALS GRACETOWN AFFORDABLE FUNERAL DIRECTORS PREPAID FUNERALS WILYABRUP AFFORDABLE FUNERAL DIRECTORS PREPAID FUNERALS YALLINGUP AFFORDABLE FUNERAL DIRECTORS PREPAID FUNERALS DUNSBOROUGH AFFORDABLE FUNERAL DIRECTORS PREPAID FUNERALS BUSSELTON AFFORDABLE FUNERAL DIRECTORS PREPAID FUNERALS DONNYBROOK AFFORDABLE FUNERAL DIRECTORS PREPAID FUNERALS COLLIE AFFORDABLE FUNERAL DIRECTORS PREPAID FUNERALS BUNBURY AFFORDABLE FUNERAL DIRECTORS PREPAID FUNERALS AUSTRALIND AFFORDABLE FUNERAL DIRECTORS PREPAID FUNERALS HARVEY AFFORDABLE FUNERAL DIRECTORS PREPAID FUNERALS WAROONA AFFORDABLE FUNERAL DIRECTORS PORT KENNEDY. FUNERALS ROCKINGHAM. FUNERALS MANDURAH. FUNERALS CREMATIONS ROCKINGHAM PORT KENNEDY, BALDIVIS FUNERALS AND CREMATIONS ROCKINGHAM coffins BALDIVIS caskets MANDURAH FUNERAL Urns, ROCKINGHAM Funeral jewellery I need a caring funeral service YARLOOP MYALUP FUNERAL DIRECTORS PREPAID FUNERALS CREMATION JEWELLERY AUSTRALIA WIDE DELIVERY PRESTON BEACH FUNERAL DIRECTORS PREPAID FUNERALS CREMATION JEWELLERY AUSTRALIA WIDE DELIVERY WAROONA FUNERAL DIRECTORS PREPAID FUNERALS CREMATION JEWELLERY AUSTRALIA WIDE DELIVERY
Greenfields Funerals your only locally owned and operated Independent Funeral Service in the Peel area offering Affordable Funerals with dignity & empathy and we provide a large range of traditional and eco coffins & caskets.
Established funeral business offering funeral jewellery and Mevisto funeral sapphires and rubies.
CLICK TO VIEW GALLERY & FACEBOOK ON FEATURE

---
Business Details
Greenfields Funerals provides an extensive range of urns and cremation jewellery. Please browse the selections below then call us to place your order.
Greenfields Funerals in Perth have developed a great relationship over the past 6 years with Urn wholesalers and manufacturers to be able to bring you a wide variety of quality urns and cremation jewellery.
Urns are manufactured from a wide range of materials that include Ceramic, Steel, Copper, Brass, and different types of wood.
Urns are etched, engraved, carved and hand painted. Some are designed for a purpose such as the scatter urns and the Bios Urns.
Here at Greenfields Funerals we strive to find the right urn for your loved one. Far too often urns are a forgotten item and as we collect our departed loved one we are left with a feeling of unfinished business. Having the right urn gives you comfort in knowing that you're Dad, Mum, Husband, Wife, Sister, Brother, Child or your special loved one has a place of worth in your Perth home.
It might be that you want to scatter the ashes at their favourite place or places, the Scatter urn is designed for this and they come as a large size or smaller size so other members of the family can scatter the ashes together.
The Bios urn is designed to be placed in the garden with the ashes inside then a plant goes on top, this is ideal for those that loved their gardening or just for you to grow and nurture.
Keepsake urns allow the ashes to be shared amongst the family whilst offering each member to have their own special style of urn. They are a personal way of remembering their loved one.
Keepsake Jewellery is also a very personal way of remembering and also allows us to have our loved one with us all the time. They are a beautifully designed piece of art, be it a love heart necklace pendant or an angel wing charm bracelet. They are available in Gold and Silver to suit your preference.
This is just a touch on the Urns and Jewellery that is available through us here at Greenfields Funerals in Perth and we are extremely happy to guide you to find the right one.
Here at Greenfields Funerals we understand that placing the ashes into the urns is something not everyone wishes to do and that is why we offer to do this for you free of charge should you purchase an urn through us.

---
Trading Hours
Mon: By Appointment
Tue: By Appointment
Wed: By Appointment
Thu: By Appointment
Fri: By Appointment
Sat: By Appointment
Sun: By Appointment
---
Payments Accepted
Cash, Cheques, Credit Cards