PARKIN PRINT - NEW PREMISES - SAME SERVICE WITH EXCELLENT PRICES - 4/9 McCAMEY AVENUE ROCKINGHAM PROMOTIONAL PRODUCTS - CUSTOM DESIGN PROMOTION PRODUCTS | Promotional Products
- PROMOTIONAL PRODUCTS ROCKINGHAM PRINTERS KWINANA CUSTOM PRINTERS BALDIVIS PRINTING AND GRAPHIC DESIGN NAVAL BASE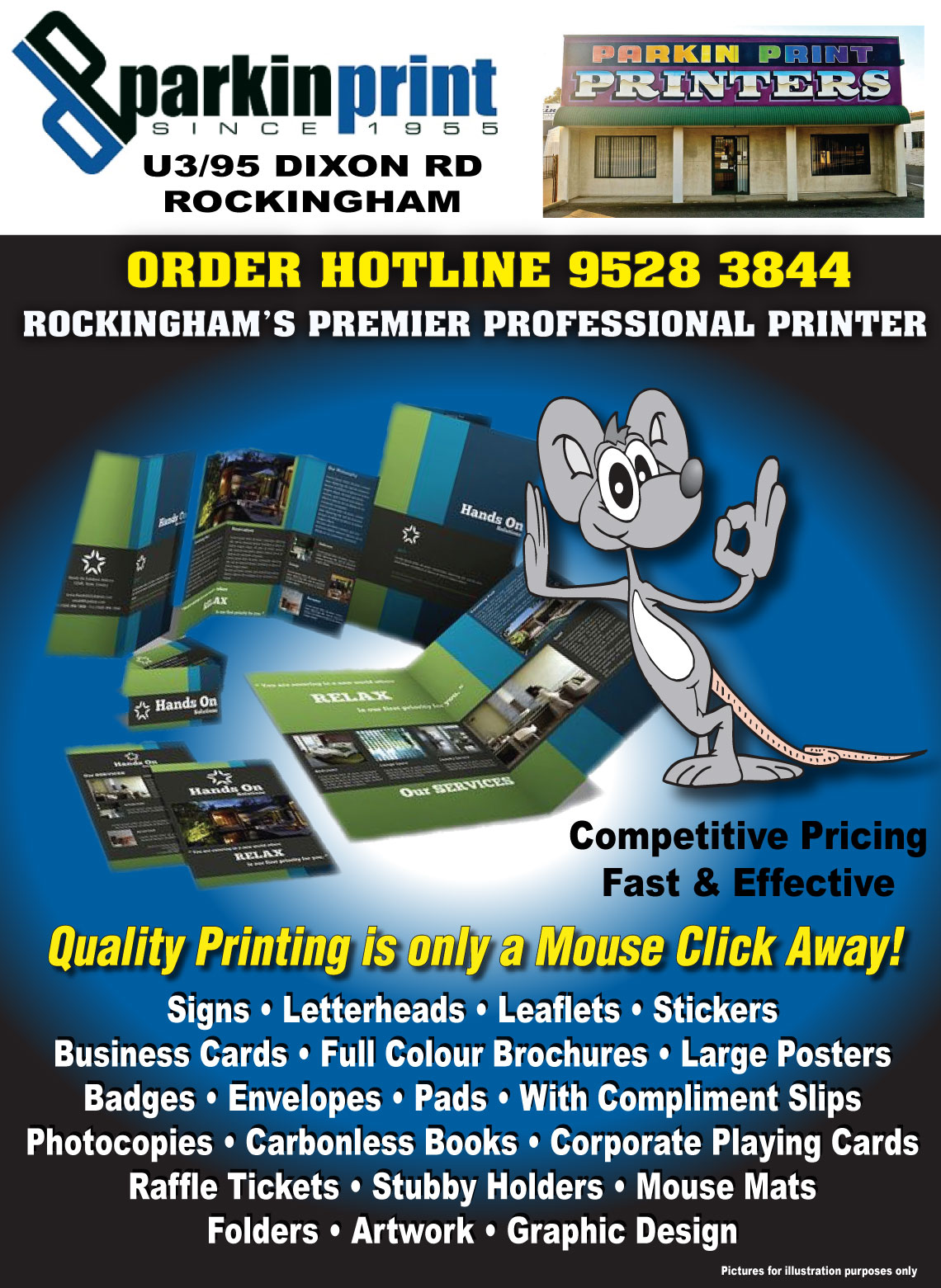 ---
PARKIN PRINT - NEW PREMISES - SAME SERVICE WITH EXCELLENT PRICES - 4/9 McCAMEY AVENUE ROCKINGHAM PROMOTIONAL PRODUCTS - CUSTOM DESIGN PROMOTION PRODUCTS
---
Address
4/9 McCAMEY AVENUE ROCKINGHAM 6168
---
---
About Us
PROMOTIONAL PRODUCTS ROCKINGHAM PROMOTIONAL PRODUCTS BALDIVIS PROMOTIONAL PRODUCTS MANDURAH PROMOTIONAL PRODUCTS PROMOTIONAL PRINTER NEAR ME KWINANA PROMOTIONAL PRODUCTS GRAPHIC DESIGN ROCKINGHAM NAVAL BASE PRINTERS ROCKINGHAM, PRINTERS BALDIVIS, PORT KENNEDY PRINTERS, PRINT MARKETING PORT KENNEDY PRINTERS WARNBRO HOW MUCH TO PRINT BUSINESS CARDS ROCKINGHAM
PRINTING ROCKINGHAM
Stubby Holders Rockingham Printing *Vinyl Stickers (Weather Proof) Rockingham Printing *Beer Coasters Rockingham Printing *Vehicle Magnets Rockingham Printing *Personalised Labels Rockingham Printing *Candle Labels Rockingham Printing * Signs Rockingham Printing * Business cards Rockingham Printing * Letterhead followers Rockingham Printing * With compliments Rockingham Printers * Carbonless Books Rockingham Printers * Brochures Rockingham Printers * Envelopes Rockingham Printers * Postcards and Gift Vouchers Rockingham Printers * Presentation Folders Rockingham Printers * Book printing Rockingham Printers * Large format posters Rockingham Printers * Newsletters & Flyers Rockingham Printers * Calendars & Desk pads Rockingham Printers * Menus & Invitations Rockingham Printers
CLICK TO CONTACT & CLICK FOR SERVICES ON FEATURE
Parkin Print was established in 1955 and has continued to expand and develop into the modern and innovative Design and Printing Company we are today. We are an Australian company operated by our working Directors and highly skilled fully trained staff.
At Parkin Print, we are leaders in traditional and digital printing and have the facilities to produce a variety of printing products.

---
Business Details
Parkin Print has a team of professional staff who are enthusiastic to defend the tradition and deliver superior service and quality in design and print.
PRODUCTS
*Signs * Business cards * Letterhead/followers * With compliments * Carbonless Books * Brochures * Envelopes * Postcards and Gift Vouchers * Presentation Folders * Book printing * Large format posters * Newsletters & Flyers * Calendars/Desk pads * Menus & invitations SERVICES * Design & artwork * Full colour printing * Black and white printing * Offset printing * Digital printing * Laminating * Collating and binding -spiral, comb, wire * Folding * Die cutting, embossing * Large quantity printing
Competitive pricing - fast and efficient.

---
Trading Hours
Mon: 8.30am to 5pm
Tue: 8.30am to 5pm
Wed: 8.30am to 5pm
Thu: 8.30am to 5pm
Fri: 8.30am to 5pm
Sat: Closed
Sun: CLOSED
---
Payments Accepted
CASH, CREDIT CARDS, EFT, DIRECT DEBIT