AAPL AIR CONDITIONING👌INTEREST FREE FINANCE AVAILABLE | Evaporative Air Conditioning
- ROCKINGHAM EVAPORATIVE AIR CONDITIONERS PERTH EVAPORATIVE AIR CONDITIONERS FREMANTLE EVAPORATIVE AIR CONDITIONERS HAMILTON HILL EVAPORATIVE AIR CONDITIONERSYUNDERUP EVAPORATIVE AIR CONDITIONERS PINJARRA EVAPORATIVE AIR CONDITIONERS BALDIVIS EVAPORAT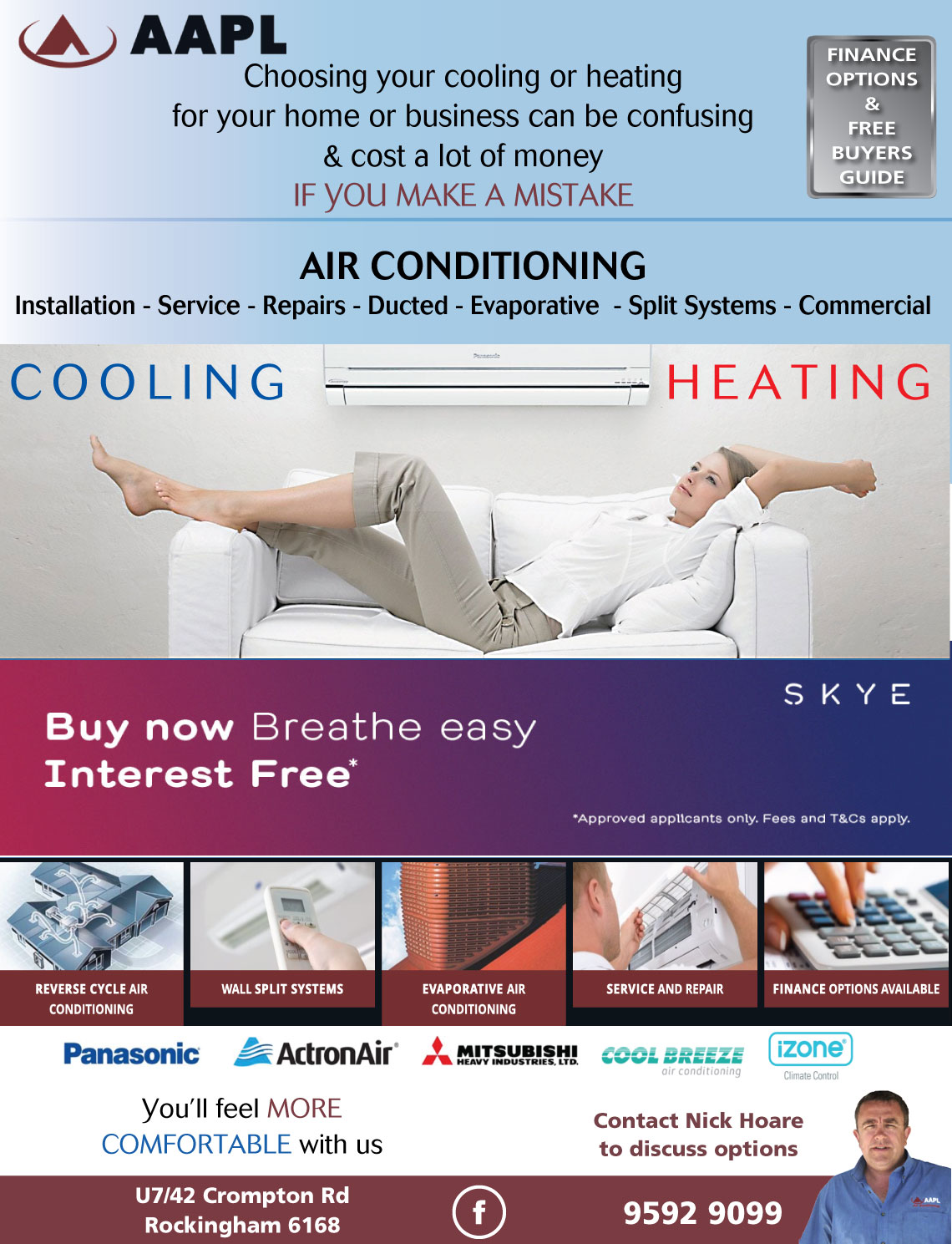 ---
AAPL AIR CONDITIONING👌INTEREST FREE FINANCE AVAILABLE
---
Address
U7/42 Crompton Road Rockingham 6168
---
---
About Us
ROCKINGHAM EVAPORATIVE AIR CONDITIONING SPECIALISTS BALDIVIS EVAPORATIVE AIR CONDITIONING KWINANA EVAPORATIVE AIR CONDITIONING HAMILTON HILL EVAPORATIVE AIR CONDITIONERS SERVICED MANDURAH EVAPORATIVE AIR CONDITIONING ROCKINGHAM air conditioning specialists PINJARRA EVAPORATIVE AIR CONDITIONING ducted reverse cycle and evaporative air conditioning specialists BALDIVIS REVERSE CYCLE AIR CONDITIONING ROCKINGHAM SPECIALIST FOR AIR CONDITIONERS KWINANA AIR CONDITIONING ROCKINGHAM HEATING COOLING AND HEATING ROCKINGHAM, DUCTED, EVAPORATIVE AIR CONDITIONING ROCKINGHAM, COOLING AND HEATING SPECILISTS BALDIVIS AIR CONDITIONING PERTH AIR CONDITIONING FREMANTLE AIR CONDITIONING WANDI EVAPORATIVE AIR CONDITIONING COCKBURN REVERSE CYCLE ROCKINGHAM REVERSE CYCLE AIR CONDITIONING
At AAPL Air Conditioning Rockingham, we recognise that not every house is the same, not every building is the same. People have very distinct living styles. Air-conditioning has to fit with that.
Air conditioning is a long-term solution not a quick-fix on a hot day.
We take pride in always giving the best air conditioning advice and providing solutions to make you and your family or your customers and staff comfortable.
INTEREST FREE FINANCE
---
Business Details
Welcome to AAPL Air Conditioning Rockingham, the ducted reverse cycle and evaporative air conditioning specialists.
At AAPL Air Conditioning Rockingham, we recognise that not every house is the same, not every building is the same. People have very distinct living styles. Air-conditioning has to fit with that, this is why… you'll feel more comfortable with us!
Air conditioning is a long-term solution not a quick-fix on a hot day.
That's why we wrote The Guide "Don't Buy Air-conditioning Until You Find Out the 5 Biggest Mistakes Most People Make". If you'd like a FREE copy of it just email us or call us at 9592 9099 and we'll send it to you.
There is a huge amount of choice and information ranging from advice from family and friends to detailed information on the internet. It can get confusing so before you take any advice to speak to us at AAPL Air Conditioning.
We've been helping people get cool clean fresh air – and warm air too – in their homes, small commercial building and offices since 2008.
AAPL Air Conditioning specialise in:
AIR CONDITIONING -
Installation - Service - Repairs - Ducted - Evaporative - Split Systems - Commercial
HEATING -
Installation
- Reverse Cycle Air Conditioning
PHONE 9592 9099 FOR AN OBLIGATION FREE QUOTE

---
Trading Hours
Mon: 8.30am - 5.00pm
Tue: 8.30am - 5.00pm
Wed: 8.30am - 5.00pm
Thu: 8.30am - 5.00pm
Fri: 8.30am - 5.00pm
Sat: Closed
Sun: Closed
---
Payments Accepted
Cash, Cheque, Credit Card, EFT