GOLDEN WEST SECURITY ✔️ AFTERPAY - ZIP PAY - HUMM FINANCE AVAILABLE OUTDOOR BLINDS SLIDETRACK | Blinds Outdoor
- SLIDETRACK BLINDS ROCKINGHAM OUTDOOR BLINDS ROCKINGHAM CAFE BLINDS BALDIVIS SLIDETRACK OUTDOOR BLINDS MANDURAH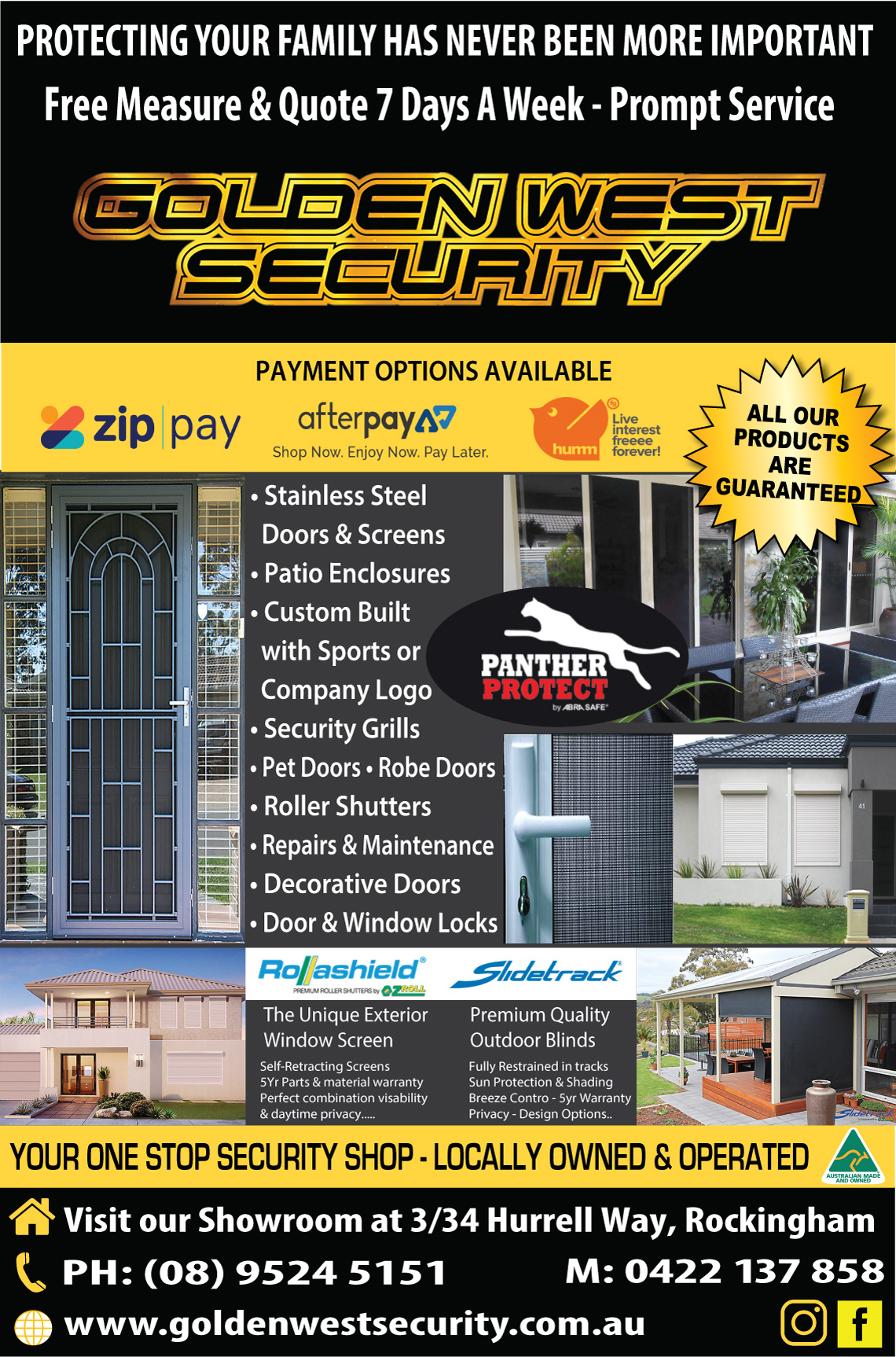 ---
---
Address
U3, 34 Hurrell Way Rockingham 6168
---
---
About Us
OUTDOOR BLINDS ROCKINGHAM CAFE BLINDS BALDIVIS SLIDETRACK OUTDOOR BLINDS ROCKINGHAM SLIDETRACK BLINDS KWINANA SLIDETRACK OUTDOOR BLINDS MANDURAH KARNUP SLIDETRACK BLINDS COCKBURN SLIDETRACK BLINDS SUPPLIED INSTALLED SLIDETRACK FULLY RESTRAINED IN TRACKS SUN PROTECTION AND SHADING, BREEZE CONTROL BLINDS SLIDETRACK FREMANTLE HAMILTON HILL SLIDETRACK OUTDOOR BLINDS Crimsafe SECURITY DOORS ROCKINGHAM INVISI GARD SECURITY ROCKINGHAM Crimsafe Doors BALDIVIS Crimsafe Doors GOLDEN BAY Crimsafe Doors WELLARD Crimsafe Doors KWINANA Crimsafe Doors COCKBURN FREMANTLE Crimsafe Doors AND INVISI GARD SECURITY MANDURAH SECURITY GRILLS ROCKINGHAM SECURITY WINDOW SCREENS crimsafe security doors invisi gard security MANDURAH SECURITY PORT KENNEDY - STEEL MESH SECURITY CUSTOM SECURITY DOORS FREMANTLE ROLLER SHUTTERS ROCKINGHAM SECURITY DOORS JARRAHDALE SECURITY DOORS SERPENTINE SECURITY WINDOW SCREENS MANDURAH SECURITY WINDOW SCREENS ROCKINGHAM, PERSPEX SCREENS KARNUP PERSPEX SCREENS MANDURAH PERSPEX SCREENS Crimsafe Doors FALCON SECURITY PORT KENNEDY PATIO ENCLOSURES BALDIVIS PATIO ENCLOSURES AND HOME SECURITY FREMANTLE CUSTOM SECURITY DOORS Crimsafe Doors FREMANTLE ROCKINGHAM Crimsafe Doors PATIO ENCLOSURES AND HOME SECURITY KWINANA PATIO ENCLOSURES AND HOME SECURITY COCKBURN PATIO ENCLOSURES AND HOME SECURITY WELLARD DECORATIVE SECURITY DOORS BALDIVIS DECORATIVE SECURITY DOORS COCKBURN DECORATIVE SECURITY DOORS COCKBURN DECORATIVE SECURITY DOORS HAMILTON HILL DECORATIVE SECURITY DOORS KWINANA CUSTOM SECURITY DOORS DECORATIVE SECURITY DOORS KWINANA Stainless Steel Doors & Screens ROCKINGHAM PATIO ENCLOSURES AND HOME SECURITY STEEL MESH ROCKINGHAM, CUSTOM SECURITY DOOR Mandurah safety decorative doors, PINJARRA windows shutter FREMANTLE enclosures and pet doors, LAKELANDS DECORATIVE DOORS COODANUP PET DOORS SINGLETON SECURITY DOORS AND SCREENS KARNUP Patio Enclosures FREMANTLE Custom Built with Sports or Company Logo CALISTA Security Grills SETTLERS HILL Pet Doors ROCKINGHAM Robe Doors DAWESVILLE Roller Shutters ROCKINGHAM SCREENS Repairs & Maintenance WELLARD Decorative Doors ROCKINGHAM Door & Window Locks
Golden West Security is a one-stop security shop located in Rockingham offering a wide range of quality products and professional service.
Golden West Security also caters for working families on a budget by offering appointments outside of business hours.
There is nothing better than no deposit &NO INTEREST EVER WITH HUMM ALSO OFFERING AFTERPAY & ZIP PAY.
It's never been easier to get your new Security Doors and Screens supplied and installed straight away.
Golden West Security now also offer Slidetrack Outdoor Blinds and Rollashield External Screens.
---
Business Details
The Golden West Security team is on hand to assist you with all your enquiries regarding the safety, security, and installation and quotation process.
Range of boxing and colour choices.
Control Options:
Manual and motorised choices.
Boxing Options
Fixed or handheld remote choices.
Fully restrained in tracks
Sun protected and shading
Breeze control
Privacy
Consistent build quality
Variety of design options
Wide range of colour choices
85%, 94% & 95% block out fabrics and pvc
Design and patent protected
Stylish and Robust Restrained Tracking System
The tracking system by Slidetrack is a patented extrusion, engineered to restrain outdoor blind skins with welded splines.
The unique channel shape was designed specifically to encompass and guide the spline within a secure channel. These tracks offer not only strength and durability, they also provide an attractive finish by concealing the spline within the channel and hiding the weld from view when installed.
These tracks can be used with a range of guide and boxing options to suit a huge variety of shading applications.
WIN A TRIP FOR 2 TO BALI
FINANCE AVAILABLE, HUMM ZIP PAY & AFTERPAY.

---
Trading Hours
Mon: 8.30am- 5.00pm
Tue: 8.30am- 5.00pm
Wed: 8.30am- 5.00pm
Thu: 8.30am- 5.00pm
Fri: 8.30am- 5.00pm
Sat: By Appointment
Sun: BY Appointment
---
Payments Accepted
Cash Credit Cards Zip Pay After Pay Humm Finance