SOUL SOOTHING THERAPY ❤️ ZIP AND AFTERPAY AVAILABLE - MONTHLY SPECIALS - COCOON INFRARED THERAPY WELLNESS CENTRE - ZIP AVAILABLE | Detox and Pain Management Infrared Treatments
- ROCKINGHAM COCOON DETOX SPAS COCOON WELLNESS PODS ROCKINGHAM KWINANA WELLNESS COCOON PODS MANDURAH COCOON WELLNESS PODS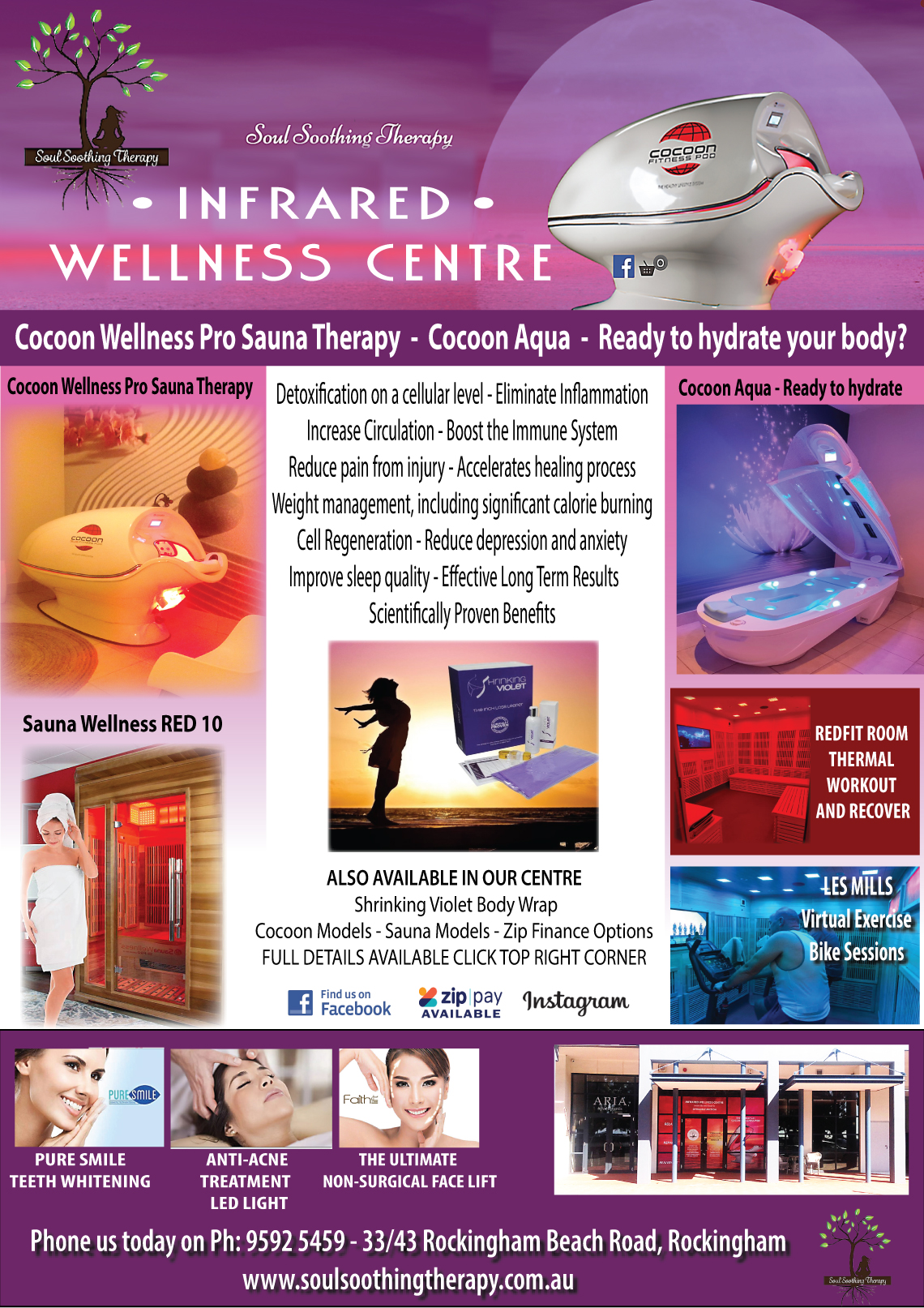 ---
---
Address
33/43 Rockingham Beach Road Rockingham 6168
---
---
About Us
COCOON DETOX SPA PODS ROCKINGHAM MANDURAH COCOON DETOX SPA PODS INFRARED COCOON THERAPY ROCKINGHAM INFRARED COCOON THERAPY MANDURAH INFRARED COCOON THERAPY PORT KENNEDY WELLNESS CENTRE PORT KENNEDY WELLNESS CENTRE ROCKINGHAM WARNBRO INFRARED COCOON THERAPY SECRET HARBOUR INFRARED COCOON THERAPY BALDIVIS INFRARED COCOON THERAPY KWINANA INFRARED COCOON THERAPY COCKBURN CENTRAL INFRARED COCOON THERAPYCOCOON THERAPY ROCKINGHAM Rockingham Detoxification on a cellular level ROCKINGHAM Eliminate Inflammation Increase Circulation Boost the Immune System Reduce pain from injury Accelerates healing process Weight management, including significant calorie burning Cell Regeneration Reduce depression and anxiety Improve sleep quality
Soul Soothing Therapy located Rockingham Beach Road, Rockingham offers excellent options in Pain Management, Detox and Cocoon Wellness Pro Pods, Cocoon Hydration Pod helping with:
❤️ Effective Long Term Results
Also including our RedFit Room Thermal Workout and Recover
LES MILLS VIRTUAL EXERCISE BIKE SESSIONS.
Shrinking Violet Inch Loss Body Treatments, Oxygen Therapy, Pure Smile Teeth Whitening, Sauna Suits, Non-Surgical Face Lift - The Ultimate Skin Care Ritual, plus much more..
Packages Available on all treatments.
---
Business Details
Pain management, detox, relaxation, weight management using our World Class full spectrum infrared Cocoon sauna pods.
The Wellness Benefits are Endless! Here are just a few....
❤️ Detoxify - Remove Heavy Metals and other free radicals
❤️ Burn a Massive Amount of Calories
❤️ Improve Strength, Cardio & Flexibility
❤️ Rehabilitation
❤️ Pain Management
❤️ Boost Immune System
❤️ Increase Energy
❤️ Decrease Work Out Recovery Time
❤️ Increase Metabolism
❤️ Relaxation
❤️ Sleep Management
❤️ Lowers Blood Pressure
❤️ Skin Rejuvenation
❤️ Scientifically Proven Benefits
Try a Les Mills 30 minute RPM virtual session or you can simply "chill out" with a virtual Hot Meditation session, read a book or just close your eyes and relax.

---
Trading Hours
Mon: 9.00am - 7.00pm
Tue: 9.00am - 7.00pm
Wed: 9.00am - 7.00pm
Thu: 9.00am - 7.00pm
Fri: 9.00am - 7.00pm
Sat: 9.00am - 2.00pm
Sun: Closed
---
Payments Accepted
Cash, Credit Cards, Direct Debit, Zip