PRESTIGE LOCK SERVICE 🔑 24/7HR SERVICE - SECURITY CAMERAS AND CCTV SURVEILLANCE | Security Cameras and CCTV Surveillance
- ROCKINGHAM CCTV CAMERAS SECURITY CAMERAS ROCKINGHAM SECURITY CAMERAS PORT KENNEDY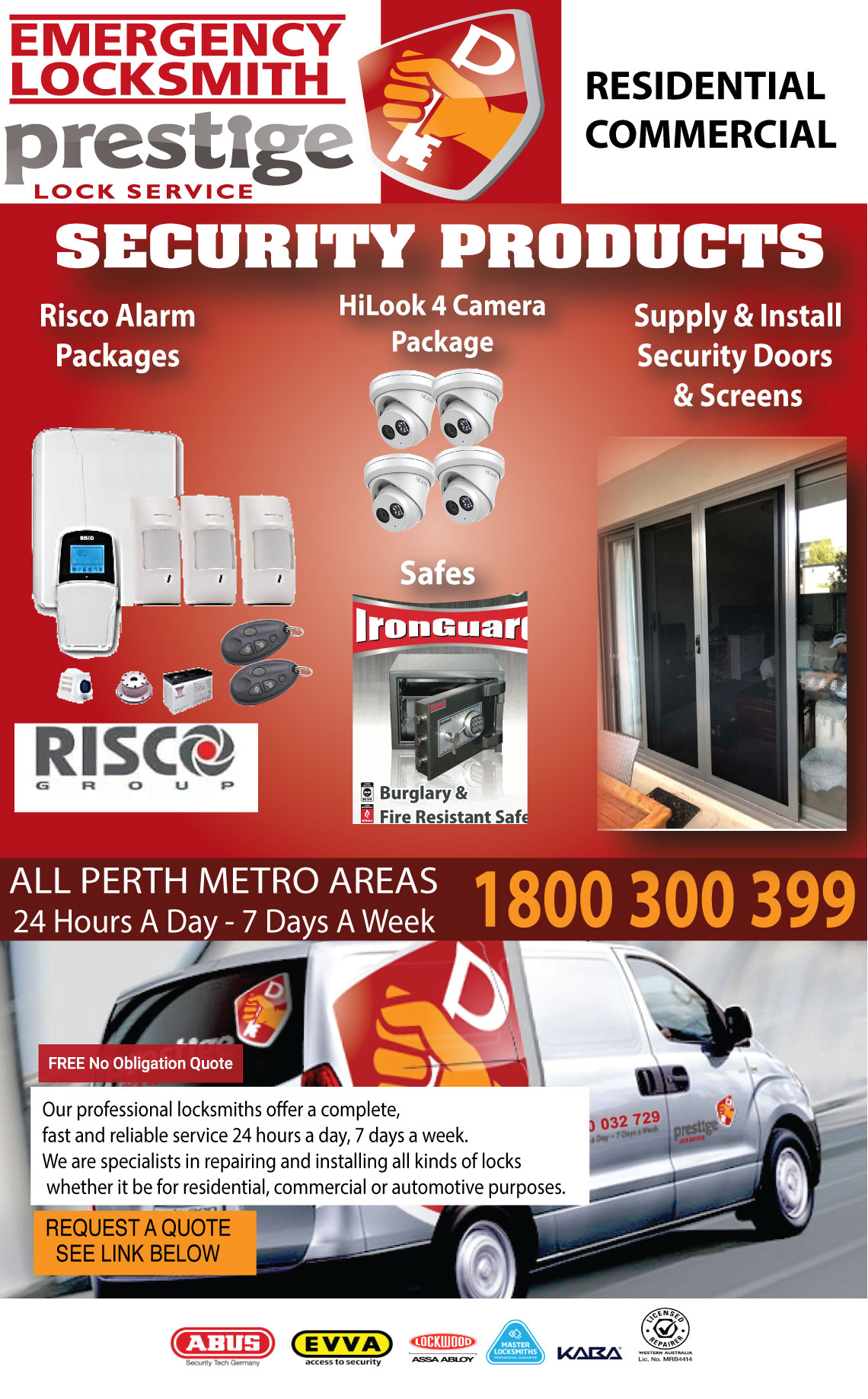 ---
---
Address
3/3 Fielden Way Port Kennedy 6172
---
---
About Us
LOCKSMITH ROCKINGHAM LOCKSMITH PORT KENNEDY LOCKSMITH BALDIVIS deadlocks LOCKSMITHS SINGLETON deadlocks LOCKSMITHS ROCKINGHAM LOCKSMITHS BALDIVIS LOCKSMITHS deadlocks MANDURAH LOCKSMITHS deadlocks KWINANA AFFORDABLOE LOCKSMITHS FREMANTLE LOCKSMITHS PINJARRA LOCKSMITHS deadlocks ROCKINGHAM SAFES MANDURAH SAFES deadlocks SECRET HARBOUR SAFES KWINANA SAFES FREMANTLE SAFES NAVAL BASE SAFES PINJARRA SAFES BALDIVIS SAFES ROCKINGHAM CAR IGNITION LOCKSMITH MANDURAH CAR IGNITION LOCKSMITH,BALDIVIS CAR IGNITION LOCKSMITH KWINANA CAR IGNITION LOCKSMITH SECRET HARBOUR CAR IGNITION LOCKSMITH FREMANTLE CAR IGNITION LOCKSMITH PINJARRA CAR IGNITION LOCKSMITH ROCKINGHAM CAR KEY LOCKSMITHS MANDURAH CAR KEY LOCKSMITHS PINJARRA CAR KEY LOCKSMITHS GREENFIELDS CAR KEY LOCKSMITHS BALDIVIS CAR KEY LOCKSMITHS FREMANTLE CAR KEY LOCKSMITHS SECRET HARBOUR CAR KEY LOCKSMITHS WANDI CAR KEY LOCKSMITHS ROCKINGHAM EMERGENCY LOCKSMITH MANDURAH EMERGENCY LOCKSMITH PINJARRA EMERGENCY LOCKSMITH NAVAL BASE EMERGENCY LOCKSMITH KWINANA EMERGENCY LOCKSMITH FREMANTLE EMERGENCY LOCKSMITHNAVAL BASE LOCKSMITHS MANDURAH ALL PERTH METRO AREAS.
EMERGENCY LOCKSMITH ROCKINGHAM< CAR KEY LOCKSMITH CAR IGNITION LOCKSMITH ROCKINGHAM
Prestige Lock now full range of Security Cameras and CCTV Surveillance for Domestic and Commercial customers.
Risco Alarm Package - HiLook 4 Camera Package - Security Doors & Screens

LOCKSMITH SERVICES - RESIDENTIAL - COMMERCIAL - EMERGENCY - AUTOMOTIVE

---
Business Details
Security Doors & Screens

• Sliding and hinged doors, • Window screens, • Triple locking • Colour matching, • 1MM Stainless steel mesh,• Patent keyway mesh retention, • Lock keyed to existing house key
• Installed by a qualified Locksmith
• Contact for free measure and quote *Patent keyway mesh retention is folded 90 degrees and wedged. Retaining 37mm of mesh within the frame.
Visit our showroom for display, demonstration or to organize a free on-site quote
Single hinged or sliding door from $850.00 Inc GST
Double hinged or sliding from $1700 Inc GST
Window screens from $340.00 Inc GST per sqm
Residential Locksmith
HiLook 4 Camera Package.
Standard 4 camera package
Supplied and installed to standard single story house
• 4 x 4MP HiLook cameras (commercial quality) • 4 channel NVR with 2TB hard drive (records 3-6 weeks) • Data point • Linked to existing TV or monitor • Free download App to view and playback recording • Onsite handover and training.
Price starting from $1599.00 inc GST
Upgrades • 4MP cameras to 6MP • 4 channel NVR to 8 channel • Coloured night camera • 2TB hard drive to 3TB hard drive • Additional standalone monitor
Risco Alarm Package.
• 1 x Risco control panel • 1 x Internal siren • 1 x External siren • 1 x Power supply • 1 x Battery back up • 3 x Pet tolerant PIR detectors. • 1 x IP module • 1 x Data point from router • 1 x Wireless receiver • 2 x Remotes
Price Starting from $1459.00 Inc GST • Reed switches (For windows) • Garage door output • Additional remotes
LOCKSMITH SERVICES
Are you looking for reliable locksmiths Rockingham to Mandurah? At Prestige Lock Service we take your home security seriously. We supply and install all kinds of locks, including deadlocks, deadbolts, screen door locks, and a wide range of locks for windows. We use the highest quality products and our experienced locksmiths are fully qualified and accredited. Our services include:
Gain entry
Rekey and key alike locks
Safes
WAS locks
Garage remotes
Security upgrades
Commercial Locksmith
For business and commercial customers, our fully licensed and qualified locksmiths deliver the most effective security solutions. We can assist with:
Restricted systems (EVVA)
Heavy duty padlocks
Cabinet/desk/display cabinet keys
Lockwood/KABA hardware
Learn more about our commercial locksmith services…

Automotive Locksmith
When it comes to car locksmith services, you can trust Prestige Lock Service. We have the latest in automotive locksmith equipment to cover a wide range of early and late model vehicles:
Car keys (most makes and models)
Ignitions
Remotes
Door lock/handles
Genuine keys
Emergency Locksmith Rockingham
Prestige Lock Service is available 24 hours a day, 7 days a week for residential, commercial, and automotive emergencies. No matter the emergency our experienced Rockingham locksmiths can assist:
24/7 locksmith service
Gain entry (residential/automotive/commercial)
Rekey locks, after break in
Repair locks, after break in
ALL services we provide available at ALL times
Contact Prestige Lock Service today for a FREE no obligation quote!

---
Trading Hours
Mon: 8.30 - 5PM
Tue: 8.30 - 5PM
Wed: 8.30 - 5PM
Thu: 8.30 - 5PM
Fri: 8.30 - 5PM
Sat: 24/7 EMERGENCY AVAIL
Sun: 24/7 EMERGENCY AVAIL
---
Payments Accepted
Cash, Credit Card, EFTPOS